Many would argue that sporting events are the lifeblood of our industry.
Structures are used by corporate companies to "wine and dine" their clients during big sporting events such as the V8 racing at Phillip Island, the Melbourne Cup, Olympic Games or FIFA and Rugby World Cups.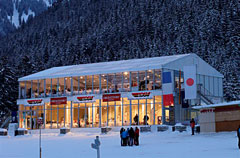 In today's environment multi-level structures are becoming a favourite amongst event organisers. The reason being, these double decker structures can increase seating capacity.
Event organisers are always looking for something different or special to sell to their clients. The sponsors want to be seen, and the conventional rectangular structure on 2.3m legs with cable bracing restricting viewing and access just does not cut it at high end events.
This is why we recommend our Solution Highend, Bi-Level / Double Decker structures and RoderDomes
for those looking to leave a lasting impression. The Solution High end is a temporary relocatable "Exhibition Centre" – available from 10m to 30m wide on 6m legs. With 6m high walls, flat roof – 5° and opportunity for a mezzanine floor, it's an event organisers dream.
The Bi-Level structure allows you the opportunity to build a solid waterproof Base Structure and erect any of your existing structures (with 5m bay configuration)
on the top of that. This allows you the flexibility of a large veranda or terraced areas for guests to get closer to the action.
Consider your next purchase very carefully – sticking your neck out and purchasing a product with a little flair might be a better investment and smarter business decision.
Contact us for information on the many Hoecker and Roder products we have available that can give you that winning edge.