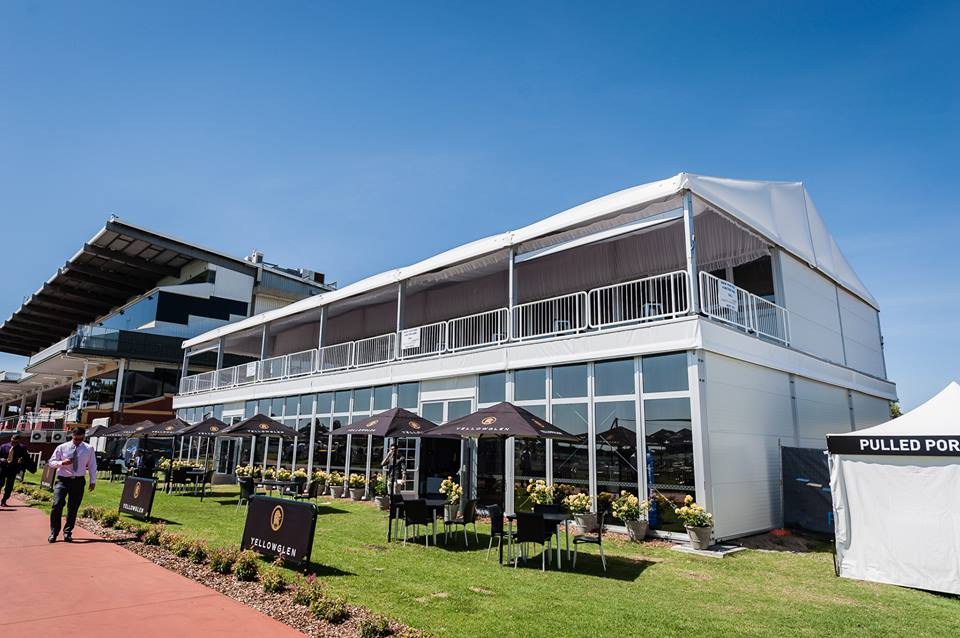 Perth Racing, Western Australia's premier racing, entertainment and events business had a vision to procure a temporary structure for their racing facilities since the late 2000s. H-Line Structures has proposed many different styles of structures over this time. The requirement evolved until finally a need for a two level structure that can be used at either of the two tracks – Belmont Park Racecourse or Ascot Racecourse. These two facilities share the race events over the different seasons in the year.
The Röder Bi-Level structure is no ordinary structure! It is used extensively throughout the world at major sporting events such as Snow Skiing, Equestrian, F1 Motor Racing and Football. The bottom level is unique in that it can be erected on its own as a viewing platform whilst creating a usable area underneath. It is 4.4m high, and the timber top level flooring has a work load of 500kg/m2. When purchased the top level is configured to accommodate the base plates of your existing structure; the bays need to be 5m wide.
Tony Favazzo the General Manager – Operations at Perth Racing, believed the reason they decided to use the Röder Bi-Level style over the conventional two level structure (with the high outer legs – which H-Line Structures also supply), was the versatility and flexibility to be able to use both structures independently of each other in different locations if necessary. The Röder Bi-Level is very well engineered and can be expanded in length and width to allow for an all-round breakout terrace if ever required.
The structure supplied to Perth Racing is two levels – 15m wide x 30m long structure. The top level has an inset internal glass wall the full 30m length to create a balcony – 5m wide x 30m long. There are two external and one internal stairwells. Both levels have silk roof & wall linings. The bottom level also has a 30m long front glass facade 4m high. In total there are 6 double glass doors in the structure. All glass walling & doors are tinted. The double PVC layer Thermo Roof and the 40mm thick Insulated Panels used for perimeter walls makes the structure a very comfortable venue.
An external lift was installed and all the stairs and access points needed to be enhanced to meet minimum requirements. The facility has created an extra space which is marketed to Corporates for events and meetings as well as a special Wedding Function area. On race days it enhances the experience for VIP's and members and the bottom level can also be used for a public bar area.