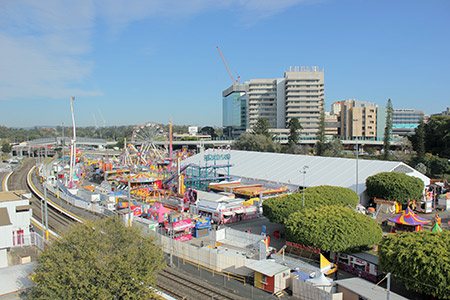 H-Line Structures installed the permanent structure at Brisbane's RNA Showgrounds.
The installation was part of a $2.9 billion RNA Showgrounds Regeneration Project, designed to allow the space to be used as a multipurpose venue.
H-Line Managing Director, Don Love, advised the RNA project was indicative of the depth of manufacturing innovation offered by H-Line.
"We've installed a permanent 50m x 110m structure at the RNA which equates to about 6 x 40′ shipping containers of material. Its sophisticated design has the features that you would expect of a permanent building and meets all Building Codes of Australia wind and fire standards."
Don explained that the installation presented quite the logistical challenge, with the site positioned directly over the Inner City Bypass Tunnel and construction involving varying civil and electrical works (coordinated by Hutchinson Builders).
"The full frame and roof covers were installed in 10 days ready for all other trades to complete a full fit out and the result is an impressive fixed structure. It is nice to know that over 400,000 EKKA patrons will get a chance to see and experience our design."
"Importantly, being involved with projects of this scale demonstrates that companies don't have to turn to metro based manufacturers for their projects. Our structures are of a global standard as seen through the large scale projects that we can produce on time, to budget and beyond expectations."
Don advised that global demand for Röder structures is on the rise due to the speed of installation for the structures, flexibility of design and ability to relocate and transport them anywhere in the world.
"Röder Structures supplied by H-Line definitely tick a lot of boxes when compared to physical bricks and mortar type buildings. Offering flexible configurations, integrated flooring and a range of variable linings and fixtures, the structures are perfect for a range of logistical applications including warehousing, fixed venue spaces, showrooms, accommodation and community facilities and other multipurpose uses."
Said Don, "There really is no limit to what we can create with our structures."
Contact Jo Whitehead at H-Line Structures for information the H-Line Structures range of Röder large structure solutions on 1300 736 626.